SSL Certificates
Make your website and domain secure
By using web SSL certificates, you can help encrypt your clients' information before it is sent over the Internet, protecting their interest and boost their confidence in your website.
Secure your Website
Vodien SSL Certificates provides you with the highest levels of security standards, to allow you to provide safe, secure transactions, secure passwords, credit card numbers and most importantly, to secure your customers' information
Secure your Customers
Visitors won't fill up a form or complete their transactions unless they know that their personal information is secured. Having an SSL certificate from Vodien is the affordable and simplest way to secure your website and increase sales.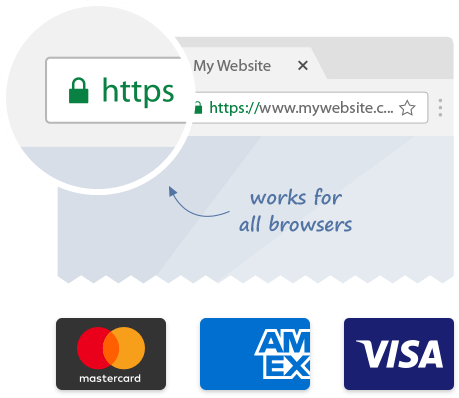 WORLD'S STRONGEST ENCRYPTION
256 Bit Encryption

World Leading SSL

Trusted by all Browsers

Trusted by Google

Strongest Encryption
FREE Site Seal

Setup on any domain

Money Back Guarantee
Strongest encryption + EV

Official secure Site Seal

Setup on any domain

Money Back Guarantee
1

Domain + all subdomains

Official secure Site Seal

Setup on any domain

Money Back Guarantee
What is a SSL Certificate?
SSL is the standard security technology for establishing an encrypted link between a web server and a browser. This link ensures all data transmitted between the two remain private and fully encrypted. SSL is the industry standard and is used by millions of websites, banks and payment gateways for protection of their online transactions with their customers.
Why do I need SSL for my website?
The Internet is now a recognised channel for commerce and business opportunities. However, along with its growth, there has been an increase in security risks. An SSL certificate provides a measure by which the user can be confident a website is safe to purchase from, as well as providing details about the site. SSL certificates are globally recognised and can also help with search engine ranking and browser load times.
Does SSL work with all devices?
Our Root certificate is trusted by over 99.9% of all current browsers, including the latest versions of Internet Explorer, Edge, Mozilla Firefox, Chrome, Opera and many more. It's also fully supported by default on all Windows and Mac OS operating systems.