Vodien Remote Help
At times, Vodien SuperSupport Staff may require to remotely access your machine to help you troubleshoot. We use TeamViewer Software to provide remote desktop assistance.
How does Remote Help work?
Step 1
Download Teamviewer
to your desktop and install.
Step 2
Open Teamviewer and tell us
your ID Number & Password.
Step 3
Vodien SuperSupport will login,
troubleshoot and assist.
Step 1: Download Teamviewer
Step 2: Tell us your ID Number and Password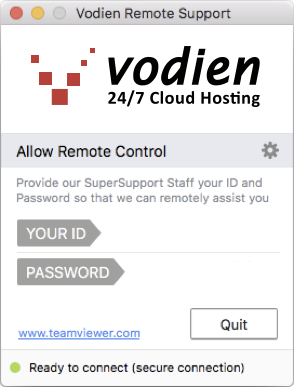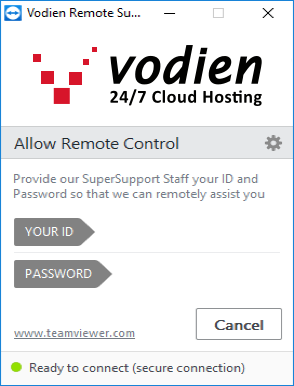 Once you have downloaded and installed the TeamViewer application, inform our Vodien SuperSupport Staff of your ID and password.
Step 3: Remote assistance to troubleshoot and fix issue
Vodien SuperSupport will now login, troubleshoot and attempt to solve the difficulties faced. You can watch on your screen every step that we do.
TeamViewer gives us the ability to be with you as if we're sitting beside you.
*Once you close the application, Vodien will no longer have access to your desktop again.