Singapore's #1
Web Hosting
The perfect home for your website
Enjoy Singapore's #1 Web Hosting with our feature-packed web hosting plans, giving you huge website storage, personal emails, one-click app installations and the world-leading cPanel hosting control panel.
One-Click Install
Over 400+ Apps
Weekly Backup
up to Last 2 Weeks
Money Back
30 Day Guarantee
Web Hosting Control Panel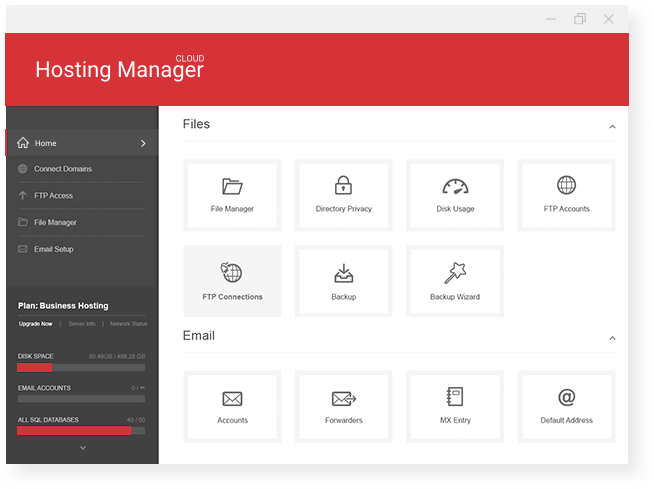 All-in-one hosting platform to manage your websites, emails and domains. Easy to use and full of useful hosting features.
Simple

File Manager

Create, Edit, Delete

Email Accounts

Add or Edit

Domain Names

One-Click

Install Applications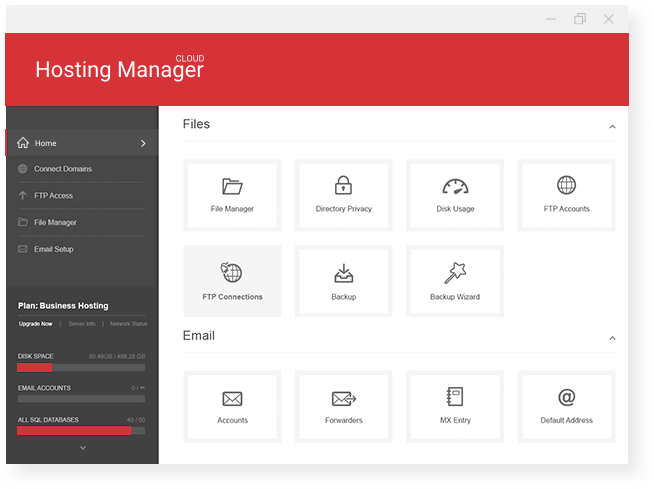 Build multiple sites easily
Building a website by yourself is easy! We provide free premium WordPress themes and plugins to help you get started. Host up to 5 websites with our basic webValue plan!
Get your own email address
What better way to further your brand than to use a personalised email when communicating with your customers! Use that unique email address!
Count on us, 24/7
All our hosting plans are covered by our in-house 24/7 SuperSupport Team. Be it via email, phone, livechat or even remote help, we will be there for you!
One-Click Install 400+ Apps
Need not worry about updates and support for our software - our SuperSupport team manages that for you. Install your favorite applications and scripts easily with our simple one-click auto installer.
Includes everything you'll need
Free Setup & Transfer

Out dedicated migration team will handle the website migration, ensuring a seamless transition process from your existing host. Worry not when you transfer to Vodien!

24/7 SuperSupport

All our hosting plans are covered by our 24/7 SuperSupport, premium support via phone, live chat and email. 6-hour resolution time guaranteed for common issues!

Automatic Backup

Data loss will be the least of your worries with our weekly remote backup for your files and folders, all-in-one access with restoration functions from your control panel.

Wordpress

Themes & Plugins

Choose from our library of over 80 premium WordPress themes and complementary premium plugins and easily create your preferred site with advanced theme options.

Email Hosting

Create your very own personalised email alias with your purchased domain name, with basic anti-spam filters and email data security compliance for greatest peace of mind.

1-Click Installs

Easy-to-use installer allowing you to install over 400+ applications, scripts, programmes and many more. You can also install popular CMS such as WordPress, Joomla or Drupal!
cPanel Web Manager

Full control and functionality over your websites, domains, emails, files and folders with the industry leading web control panel, cPanel.

Amazing Value

Unlimited data transfer for all web hosting plans with 99.9% network uptime guarantee, unlimited sub and parked domains with a 30-Day moneyback guarantee.
Great support compared to my previous web hosting company. Quick understanding about the issue & easily call through 24 x 7 call facility. Feel highly secured.
Thanks to Vodien team support! It's a nice experience upgrade process.
Thanks, for the speedy reply. Always prompt.
A web hosting service allows you to store your web files through high-powered network of computers called web servers. In simpler terms, we are providing you with the resources to power your website on the world wide web.
To learn more about Web Hosting, be sure to check out our "What is Web Hosting and Why Do You Need It?"
Our web hosting plans are under a shared hosting environment, an entry-level web hosting product that is affordable and provides you with the basic minimum for starting your website. Shared hosting is suitable for personal blogs, small business websites, portfolios and even for ecommerce business.
For shared hosting environment, Server resources such as processor, memory, storage, bandwidth and third party software will be shared among other users on the same server space.
Click here to learn more about the difference between Shared hosting, VPS Hosting and Dedicated Servers.
What kind of Web Hosting do I Need?
We offer three main types of Web Hosting, namely Shared Hosting, VPS Hosting and Dedicated Server Hosting. Depending on the amount of resources or level of customisation you require for your website, we will be able to provide recommendations for the suitable plan. For basic websites, we recommend you to start off with our webValue plans. Our plans are easily scalable so you can look at upgrading your hosting account as soon as you require more resources.
How many websites can I host with my Shared Hosting Account?
Ideally, each shared hosting account should only have one main domain, for security and performance optimisation. To value-add and provide convenience for our customers, we provide functions such as add-on domains, sub domains and parked domains.
Why are there limits placed on certain type of resources?
Vodien aims to be transparent in our hosting packages; the hosting plans have a pre-set amount of resources to enable all shared hosting customers enjoy similar performance and stability, in view of our Fair Use Policy.
If you have certain requirements needed for your hosting account, do get in touch with us and we will try our best to customise a suitable plan for you.
I have a website with another web host? Can I transfer over to Vodien?
Yes, Vodien provides free website migration to ensure that your site is properly moved to our servers with minimal downtime and without losing your important data.
We only provide free migration for the first website
We also offer free email migration services for the first 5 email accounts. Subsequent email accounts are subjected to an admin fee per account.
Click here to view our transfer promotions to Vodien.
What else do I need other than a Web Hosting plan?
Apart from a hosting plan, you need a domain name to act as the address for your website. Domain names start from S$20/year, be sure to check out our domain name availability platform to secure the perfect domain name for your website.
You will need a web developer to create a website as well. Otherwise, if you would like to try to create a website on your own, you can use our free WordPress guides, resources to kick-start your online presence.
Vodien WordPress Resources